2021 Yoowigs Anniversary Celebration Big Sale
Clap Our Hands Babiee For Yoowigs Birthday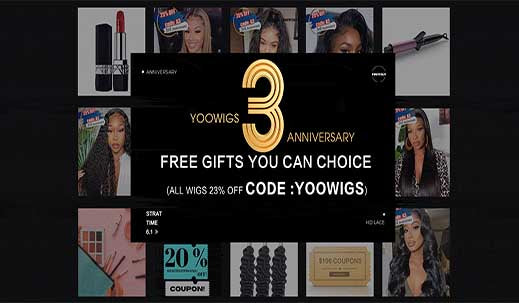 1: Time:6.1-6.30
    only 1Months sale to thanks for all customer support,
2: buy 1 wig,23% off (expect super sale wigs),
    buy over 3 wigs 30% off,up to the wholesale price list,
3: Our official will choose 10 luckynew buyers to send free wigs(randomly)
4: We also Accept 24/48 Hours Shipping Out
    yoowigs years biggest promotion,hope you can not miss it 
Flash sales
1.10 Product Accpet 24hours Shipping Asap / There are only 5 slots available, click here to snap it up.
Redeeming your Reward Points 
What can I redeem with my Rewards Points? You can redeem points for everything on the gift page. Only need Fee extra 300 points to redeem this Comb suit.
For more information on Yoowigs  and points redeemable, click here.
Yoowigs Promotions
Time: From July 1th to June 30th
Discount: Extra 23% off for all, Code:Yoowigs
About Yoowigs
Yoowigs is one of the popular sites for all those who are on the lookout for the best human hair weave and human hair wigs.
We have a group of successful hair stylists, as well as more than 20 years of industry experience, to provide people with 100% natural and highest quality natural human hair.