Buy a wig for Halloween from Yoowigs !
The Halloween countdown has officially begun and the hunt for that perfect costume has undoubtedly started for many. If you're yet to decide on a look for the spooky season, stop what you're doing and prepare to be inspired.
Behold our list of the top 3 Halloween Wigs based on predictions, sales and requests to date. Our 2021 rundown includes classic styles with a modern twist and some alternative gems that might just magic up that inspiration you've been searching for.
1. The Ghostly Madame Wig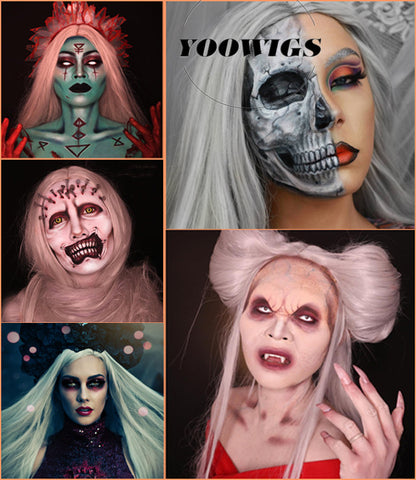 A popular choice during the Halloween season owing to its long, full and thick, jet-black hair lengths. The Yoowigs , originally inspired by the macabre matriarch herself, is ideal for any costume requiring sleek and straight dark coloured tresses.
The 26 inch long wig makes a fabulous choice for divas and demons alike.
Grey wigs from yoowigs
https://bit.ly/3G9J3we
2.The Stargazer Lace Front Wig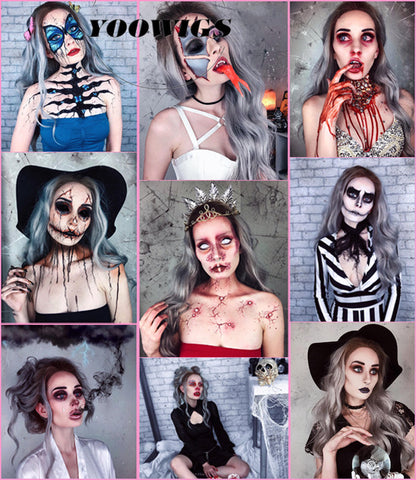 Ghoulish grey, grisly grey, gargoyle grey – we'll shut up now. In short, grey wigs are probably the most popular of any colour during the Halloween season. The neutral shade allows intricate or colourful makeup to really pop, and adds an instant deathly tone to any horror themed costume.

The long grey lace front wig features beautiful wavy layers made from luxe, heat resistant fibre. A seamless blend with the scalp is easily achieved thanks to the soft, transparent lace sewn from ear-to-ear.

Viral artist and Ghoul Queen @yoowigs opted for the best selling Stargazer Wig to complete several of her 'Ellyween' series looks. Be inspired by more of her incredible work here.
https://bit.ly/3h6FTPZ
3. The Black Swan Lace Front Wig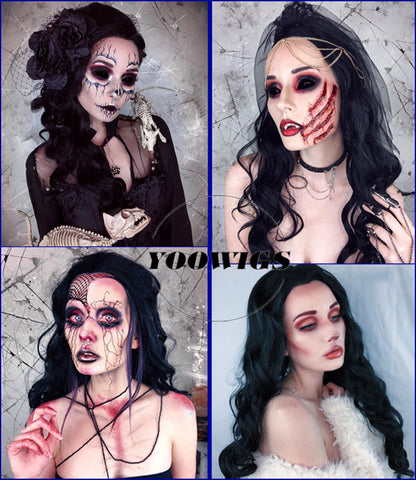 A classic Halloween style with the added perk of a contoured, authentic hairline. The long black lace front wig exposes the face beautifully, ideal for showing off that gory makeup designed to be the focal point of your Halloween ensemble.

Alternatively, the lavish hair lengths can be braided, plaited or arranged into an 'up do', without having to conceal the wig edges.

https://bit.ly/3h6FTPZ
We can't wait to see your creations this Halloween. Be sure to tag your wig pics @yoowigs  for discounts and features. Stay creepy and creative!