Yoowigs Black Friday Sale 2021, UP To 30% OFF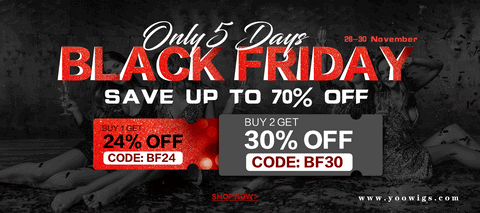 Yoowigs Black Friday Sale 2021,Nov 26 .
The years biggest discount on Black Friday,Nov 26.Don't miss it.
In order to give back to the loyal fans and customers who have been supporting us for many years, in order to let you spend an upcoming Black Friday and Christmas, we now provide you with the lowest price, zero profit, and high-quality wig products. , The lowest price in history throughout the year, please don't miss it. The event only ends in 5 days.
Event time: November 26 to November 30.
(The original price will be restored after the event. Please don't miss it.)
Happy Black Friday Sale !



24% OFF ,Buy 1 Wig, Code: BF24
30% OFF ,Buy 2 Wigs, Code: BF30
Catch the Biggest Deal of the Year!!! 
Only high grade quality 100% human hair products,human hair wigs.
Magic hd lace wig,13x4 lace frontal wig,13x6 lace frontal wig,360 lace frontal wig,full lace wig,4x4 lace closure wig,5x5 lace closure wig,headband wig.