About Us
YOOWIGS PRODUCTION & TECHNOLOGY
As the first factory to design and develop lace human hair wigs,Yoowigs has been totally confirmed by world customers.Yoowigs HD lace was researched by our prefessional stylist Andrea.It is Yoowigs patent now with a uniform hexagonal hole,which is ultra thin for melted and makes it extremely breathable, When you wear it,you must feel much comfortable and doesn't feel stuffy.HD lace material with Yoowigs workers new hand tied magic single knots skills after light bleached which makes the hair just as hair grow from your scalp.
One most important thing,Yoowigs HD lace is super friendly to hair beginners,there i no work needed.you can cut lace and wear it directly when you open yoowigs package and take it off.
WHY YOOWIGS HD LACE?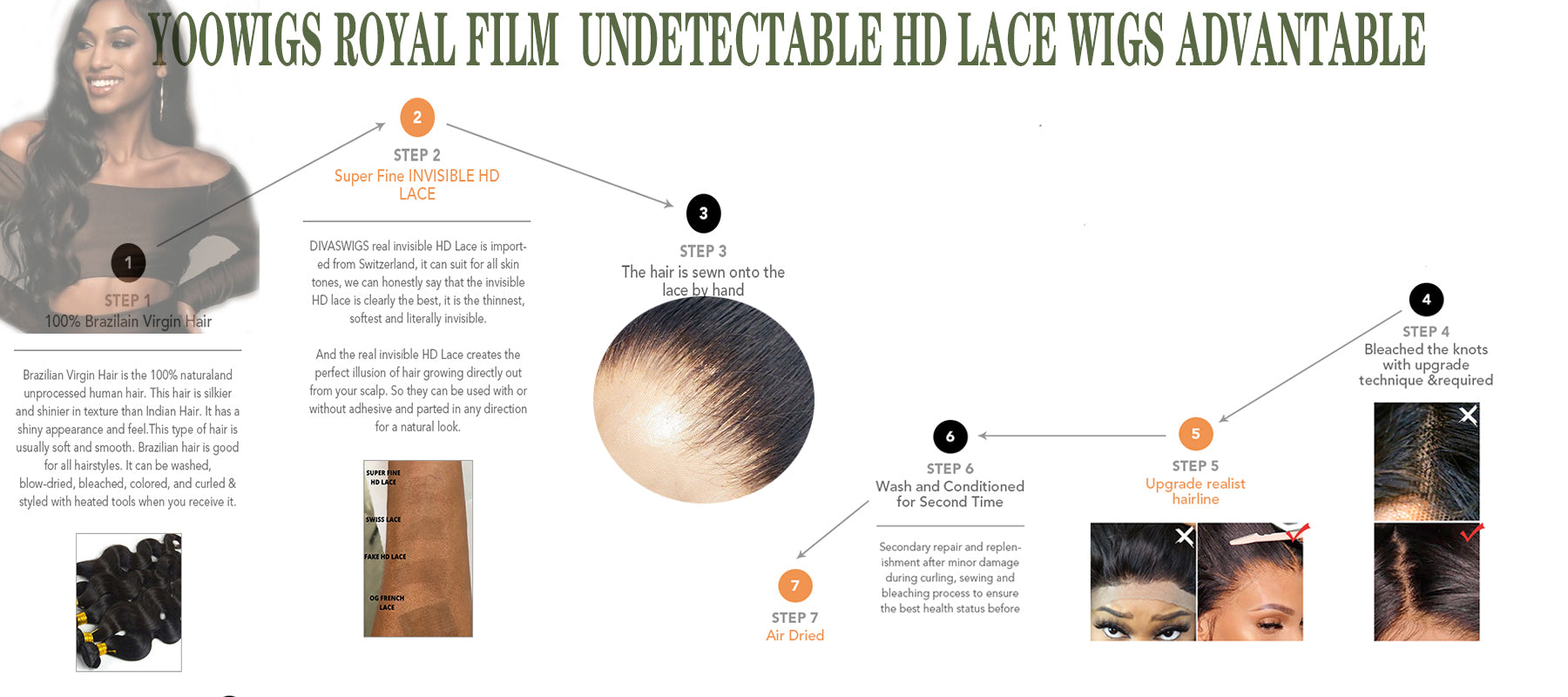 Since many buyers in market complain the hair they bought can't last and they always have some very bad experiences shopping online,They don't know how to buy good hair from so many chaotic hair sellers online.
Are you also been plagued by this trouble?
When the beauty of black women around world were so desire to be able to use the best hair longer time without worry, as the top hair brand has a mission that brings beauty and valuable service to customers around world, Yoowigs was determined to research and develop a unique top quality human hair, and ensure that the top quality human hair can last many years.In the development process,the Co-founder Cathy and Bella tried hundreds of ways to solve this problem. Finally,heaven pays off,they found the best material in the world and the most advanced technology to keep hair curl. Now we put our fingerprint here to help you recognize the original hair.
Most importantly, We are your consultant in terms of hair using&caring more than a hair supplier! We promise the human hair can last one year at least.In addition,We will try our best to help you solve hair problems or return/refund. It's our responsibility to bring you a pleasant shopping experience!
MORE ABOUT US
It is our commitment at Yoowigs to provide our clients with an unparalleled alternative hair shopping experience.
We believe that everyone can, and deserves, to feel beautiful. We strive to pamper our clients by inspiring them with the confidence that comes from receiving care from the professional and informed expertise of licensed cosmetologists. Only the best products make it on our site, all brands and products are critically analyzed and evaluated to ensure we only provide HD lace units and hairpieces with the highest quality, integrity and ease of use. As the largest Hair Shopping Network in North America, our goal is to provide our clients with exceptional service and a top-rated Human hair products. This commitment to offer our clients the best is fundamentally integral to the phenomenal growth we have experienced for the past 18 years.
Shop with confidence! We have everything you need to help you with what may be your most important personal purchases. Based on customer feedback and our industry expertise, we procure only the best wigs to an exceptional selection from only 100% grade 12A HD lace human hair wigs and hairpieces.
We continually strive to instill confidence in our clients to know they are receiving the best products and information in the beauty and hair industry. Enjoy easy shopping on our secure website. And please, if you don't see exactly what you want, feel free to email us. We love and welcome all your feedback and will do our best to fulfill your needs. Licensed Hair Professionals are waiting to answer any questions you may have to help you find your perfect style and color.
OUR MISSION
We always think about the question: how to make you more beautiful? There is no doubt that it is our mission! Make you more beautiful! 
OUR BELIEF
Unlike other hair/wig brands, which invest a lot of money in endorsement and marketing, we invest as much as possible in products and services. We always believe that customer experience and public praise is our best "marketing". Yoowigs doesn't have to give a lot of money to big influencers or advertising companies. It is understood that the fee of a Youtube video of a big influencer is more than $10,000. And if these money is spent on products and services, then products and services can improve a lot. So Yoowigs wants to invest more money in products and services. And we firmly believe that this is the right road.
Want to know more about Yoowigs HD lace ? Contact us via Email: cassie@yoowigs.com
Company :QingDaoYueXiuNetWorkTechnology Co.Ltd